Try Infrared Sauna with Red Light Therapy for Your Health, Your Skin, and Your Happiness
At InstaPhysique, we want to help optimize your body & overall health so you can do more and live fully. Time spent in an Infrared Sauna has longevity-boosting benefits and can help you to feel amazing. When you step into InstaPhysique's Sunlighten Smart Sauna, you're getting an exclusive experience with the world's only customizable infrared sauna. Our Full-Spectrum Infrared Sauna Therapy here in Sacramento has an advanced and patented 3 in 1 heating technology, with six customized health programs and included red light therapy. It delivers the perfect wavelength of each infrared wave, like dialing in a specific radio station. You get precise far, mid, and near-infrared and red light wavelengths for optimal results to leave you healthier, based on clinical studies. No other sauna delivers this level of infrared therapy.
Get an EXCLUSIVE DISCOUNT on your first Infrared Sauna Experience by clicking below!
BOOK MY SAUNA INTRO In Sacramento

What Does Infrared Sauna Therapy Do?
Different than a traditional sauna which heats the surrounding air, infrared heats up your body's core at a cellular level, where most toxins are stored. This is a wellness tool that easily adapts to your changing health needs. Benefits include detoxification, anti-aging, immunity, weight loss & management, heart health, muscle recovery, weight management & relaxation.
When you visit, you will experience soothing infrared therapy that penetrates the body at the cellular level leaving you feeling light and revitalized. This incredible form of sauna therapy promotes detoxification, enhances your immune system, boosts collagen production, and calms your nervous system. Research shows low levels of light have a much better effect on stimulating and repairing tissues than higher levels. With blended low levels of red light with NIR light to bathe you in both, allowing us to create a quiet, comfortable red light therapy experience. The LED panels are integrated in the walls and part of our 3 in 1® Smart Sauna technology that manages the pre-set health programs, heaters and LED panels, allowing you to invigorate and rejuvenate from within.
It's easy to get addicted to this private, 30-minute therapeutic sauna experience. Enveloped in enjoyable therapeutic warmth, your body will absorb infrared and red-light wavelengths as they reach into your skin and tissue to stimulate cell activity. Its natural preventative properties help support all your goals with benefits for circulation, weight loss, sleep, immunity, improved skin, stress relief and temporary pain relief. Near, mid, and far infrared wavelengths help you feel even more amazing after a workout or as a stand-alone treatment. The health benefits increase with regular use over time, which is why we offer Memberships for you to come as often as you like at a reduced price.
BOOK MY SAUNA INTRO In Sacramento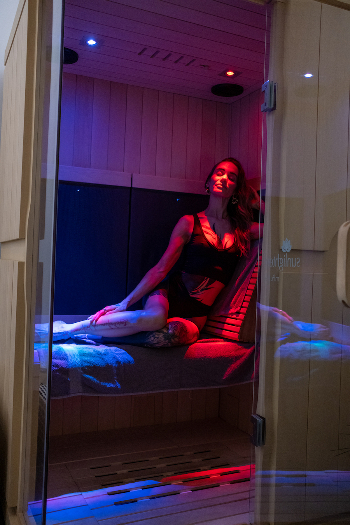 We've also upgraded your sauna experience with:
CHROMOTHERAPY (color therapy) which helps enhance your mood and promotes an overall sense of harmony and well being.
SOUND THERAPY (Acoustic Resonance Therapy – A.R.T) which combines the healing effects of sound and vibration to harmonize all systems of the body bringing you to a deeper state of relaxation. Attached at specific locations in the sauna, the system uses an amplified audio signal to resonate sound waves to the surface of the sauna.
COMPLIMENTARY TOWEL SERVICE
Come See Us In Sacramento For Infrared Sauna Therapy
If you're interested in improving your skin, increasing the natural healing abilities of your body, and experiencing less pain, Infrared Sauna Therapy at InstaPhysique is the thing for you. We're dedicated to helping people from all over Sacramento feel more comfortable in their skin and this new treatment is just one more way for us to help our community.
Just fill out the short form on your screen if you'd like to learn more from our team!
Get started
INFRARED SAUNA FAQ:
How to prepare: Wait at least 1-2 hours after eating before beginning an infrared sauna session. Hydrate with a minimum of 8 ounces of water to prepare for an increase in core body temperature.
When you arrive: you will choose from six pre-set programs that each deliver specific blends of near, mid, and far infrared for individual health benefits that include cardio, detox, weight loss, relaxation, pain relief, or anti-aging.
What to bring: A clean cover up/clothing is required. To enable infrared to penetrate tissues as deep as possible, we recommend wearing as little as possible. A bamboo carbon body wrap, cotton towel, gym shorts or swimsuit are perfect options. Bring a water bottle to drink pre and post session.
We provide you with:You will sit on a clean towel to absorb sweat and keep the sauna clean. We offer complimentary bath towels infused with CELLIANT that reflect the body's infrared back into the body, enhancing and extending the benefits of infrared before, during, and after your session. We also provide body wipes, and ask that you wipe your feet prior to entering the sauna.
Post-session: Rehydrate with 8 to 24 oz. of water or electrolyte drink to replenish fluids. You may dry off with the provided towel, then cool down naturally or with a shower. You should also schedule your next sauna session!
Your can also experience the benefits of both color ("chromotherapy") & sound therapy during your sauna session.
Chromo­therapy is the science of using colors to adjust body vibrations to frequencies that result in health and harmony. Each color possesses frequencies of a specific vibration, and each vibration is related to different physical symptoms. Chromotherapy works on various energy points to help the body re-establish its natural balance. It's a lighting feature that paints the sauna with colors from the sun's visible light spectrum, creating an artful atmosphere with a balance-bringing effect.
Sound therapy i.e. Acoustic Resonance Therapy (A.R.T.). A.R.T. combines the healing effects of sound and vibration to harmonize all systems of the body bringing you to a deeper state of relaxation. Attached at specific locations in the sauna, the A.R.T. system uses an amplified audio signal to resonate sound waves to the surface of the sauna. Listening to soothing music and feeling it resonate throughout the body stimulates the body's natural relaxation response. It feels like light touch massage during your sauna session. If you prefer to listen to a podcast or just chill out, the choice is yours!
One session will leave you feeling refreshed and rejuvenated. But similar to exercise, the more you do it, the better the results. Recommended use is 3-4 times per week for 30 minutes.
Sweat levels are different for everyone. Don't be surprised if you don't sweat during the first few sessions. Sweating will increase with regular use. Even if your body is not drenched in sweat, your body is still detoxifying due to the deep cellular penetration of the infrared wavelengths. Also, be sure to drink plenty of water before your session. If you are dehydrated, you will not sweat as much. If you lymphatic system is sluggish, you will not sweat as much.
Whereas with a traditional sauna you are focused solely on heated air and sweating, with infrared it is not the heat level that is effective...it is the penetrating waves of near mid and far infrared. The variety in temps and wavelengths in our full-spectrum sauna allow customers to get an array of benefits from the infrared depending what their goals are for each session.
Infrared saunas emit lightwaves that penetrate the body to stimulate the health benefits from within at a cellular level. In our full spectrum sauna, each near, mid, and far wavelength is specifically programmed to optimize specific health benefits. This is not a sauna experience where you are just incrementally watching temps rise - they will fluctuate based on the combination of wavelengths to match the desired health benefits. The optimal temperature of infrared in our full-spectrum Sunlighten sauna is between 100-130 degrees Fahrenheit, and traditional saunas are typically heated to 150F - 210F. So, hotter doesn't always mean better!
Important to note:
Infrared heats the body directly rather than simply heating the air. This provides a deep, penetrating heat at lower temps.

Enjoyable heat = longer sessions = more benefits.

Infrared penetrates human tissue, and the energy it delivers is just the right nudge cells need to stimulate warmth, growth, and release.
Infrared is effective at a low, soothing temperature.

It is completely healthy and safe for all living things. it's even used in hospitals to warm newborn infants
Even though infrared is completely safe, it is not recommended to use while pregnant. While pregnant, the core body temperature is already elevated, and you could overheat.
In general, it is safe to use while breastfeeding, however we always recommend you consult with your physician.
Infrared sauna therapy is incredibly beneficial to do both before and after!
Massages: Infrared sauna helps detoxify after a massage, or relax before a massage session.
Fitness Workouts: Infrared sauna helps muscles recover faster after a workout and helps increase flexibility before any type of workout.